Edam Volendam: something for everyone. The Edam-Volendam urban community has something for everyone. Volendam is known for its traditional costumes, lively harbour, beautiful village centre, smoked eel, distinctive music and sporting achievements. One of the best-kept secrets is Edam. Here you can stroll through the quiet old cobblestone streets enjoying art, culture, beautiful historic buildings, the famous Edam cheese and cheese market, wonderful shops and excellent restaurants. Former Zeevang is an area characterised by an expansive peat landscape with many recreational opportunities. These marshy grasslands still exude the atmosphere of old Holland: tranquillity, wide open spaces and great natural beauty.
Volendam
Volendam has a strong musical heritage and is placed on the map by their successful musicians, who include Jan Smit, Nick & Simon, the 3JS, The Cats and BZN. These talented artists have dominated the front pages of all Dutch daily newspapers for years. Local football club FC Volendam, well-known for its constant 'ups and downs' (promotion and relegation) in the professional football leagues, and their handball club, a five-time Dutch champion regularly put Volendam in the spotlight. Volendam is not only known for its musical and sporting celebrities, it's also the place tourists 'must see' when visiting Holland thanks to its traditional dress, harbour with bustling fish market which forms the lively heart of the village where fishing vessels, old smacks (type of traditional fishing boat), pleasure crafts and yachts lie snugly side-by-side in a delightful setting. 
The old centre of Volendam lies behind the dyke and is called the Maze (Doolhof). Characteristic of this part of Volendam are the small wooden houses and the ancient atmospheric maze of narrow streets but the heart of Volendam is its lively harbour, a not-to-be-missed sight.
More information Volendam
For more information on all leisure activities, sights, museums, restaurants, bars, shops or accommodation on Volendam, please visit the Volendam Tourist Information website.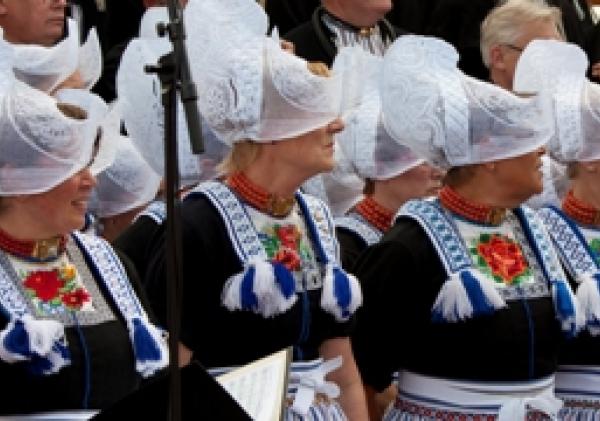 Edam
Visiting Edam is like stepping back in time, most of the village is as it was centuries ago. No extensions, no new buildings but preserving all the beauty of bygone days. And that's quite something as in the fourteenth and fifteenth century Edam was one of Holland's most prominent trade ports of the day. Shipbuilding and cheese industries in particular ensured that Edam flourished. This prosperity is still visible in the form of richly decorated gabled rooftops and impressive historic buildings.
For most people Edam is synonymous with cheese. Edam is famous for its 'Edammer', a round cheese that has been exported from Edam to all corners of the world for centuries. The Edam traditional-style cheese market is open for visitors weekly during the summer months.
More information Edam
For more information on all leisure activities, sights, museums, restaurants, bars, shops or accommodation on Edam, please visit the Edam Tourist Information website.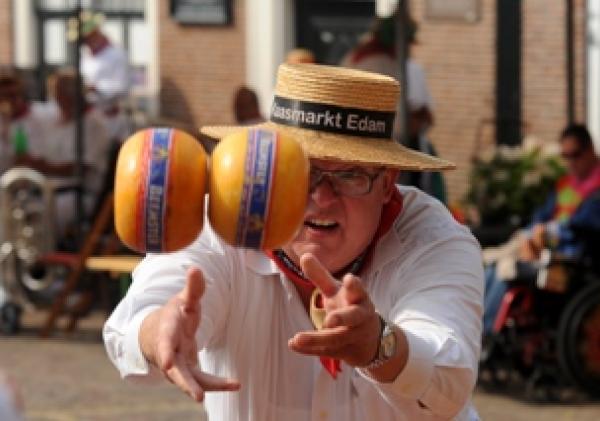 Former Zeevang
The former Zeevang comprises the villages Beets, Oosthuizen, Middelie, Kwadijk, Hobrede, Schardam and Warder. The swaying reed beds, small country roads, unique grassland birds and ribbon villages are typical to this region. It is ideal countryside for cycling, walking and canoeing, and it offers a wonderful view of the Marker Lake. Another interesting point about this typical Dutch landscape is that it holds the second-lowest point in the Netherlands which is almost seven metres below sea level.
Experience the agricultural life here by visiting working farms and strolling down country lanes and crossing the waterways with pull-ferries. The school where C. Joh. Kieviet, writer and creator of Dik Trom, a classic children's book, taught and where he wrote his first Dik Trom book is also open to visitors. Zeevang is a fascinating area rich in cultural history and well worth a visit! 
More information former Zeevang
For information on all leisure activities, sights, museums, restaurants, bars, shops or accommodation please visit the website: Laagholland.com.